Recent Activities
Spotlight talk at Ontario Library Association
Fabulous 'write-up' of my talk, by artist Lisa Sorsa.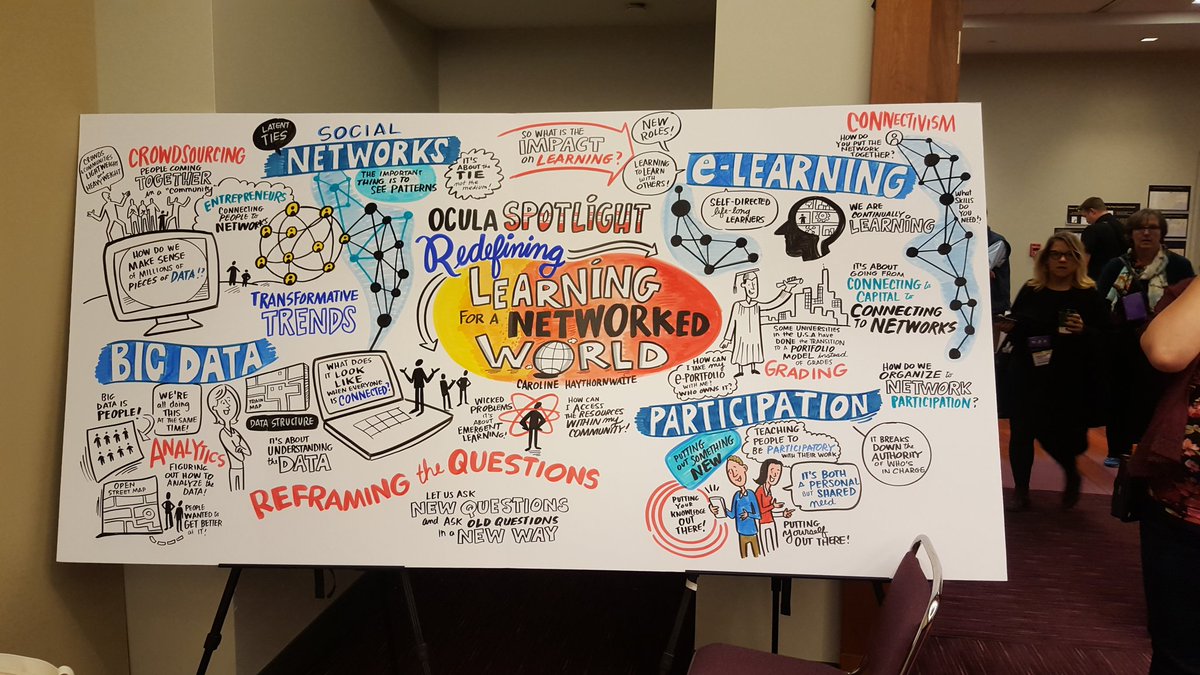 E-learning ecologies — visit November 6-13; conference on November 12, 2015
Collaboration for Online Higher Education and Research (COHERE) conference
Invited presentation. From learning networks to learning communities: Theory informing practice for community outcomes, Oct. 22, 2015. COHERE, Halifax, NS. Organizer: Brad Wuetherick.
New Zealand
Visit and talks in New Zealand, July 2015 for ANZCA 2015 in Queenstown, and to Wellington to meet with the Ako Aotearoa Tertiary eLearning Reference Group.

Keynote presentation, Learning networks: Rethinking spaces, structures and possibilities for learning in the 21st century, July 8, 2015,  Australia and New Zealand Communication Association (ANZCA), Queenstown, New Zealand. Organizers: Donald Matheson, Michael Bourk. http://www.arts.canterbury.ac.nz/conferences/anzca/.
Public presentation, Social network structures for networked learning communities, July 14, 2015, National Library of New Zealand, Wellington, NZ . Organizers: Tertiary eLearning Research Group (https://akoaotearoa.ac.nz/telrg).
Australia
University of Technology, Sydney
Workshop "Networked Learning Practices", University of Technology Sydney, Australia: Wednesday August 20, 2014. 2-5pm. Hosts: Shirley Alexander and Simon Buckingham Shum.
University of South Australia, Adelaide
University of Canberra
BloG POST
Flexibility and the teacher-learner-institution triad, April 29, 2105
The term flexible learning is bandied about a lot these days, but what does it really mean? Does it signify a brave new transformation in approach and practice for teaching, learning and education, and if so, what kind of transformation is it? It is all new, or does it—or can it—inherit and gain from the state-of-the-art of the former flexible option of online or e-learning? … continue reading on the UBC Digital Learning blog.
Work in progress
Learning Analytics for the Social Media Age.

SSHRC Insight grant 2013-2018.PI: Anatoliy Gruzd; Co-PI: Caroline Haythornthwaite; Collaborator: George Siemens.
HICSS 49 – January 2016 – minitracks

Social Networking and Communities; Social Media and Learning. .
Forthcoming
Handbook of E-learning Research, second edition (SAGE), in press. Editors: Caroline Haythornthwaite, Richard Andrews, Jude Fransman and Eric Meyers. Expected publication 2016.
Paulin, D. & Haythornthwaite, C. (forthcoming). Crowdsourcing the curriculum: Redefining e-learning practices through peer-generated approaches. For special issue of The Information Society on Connecting Fields: Information, Learning Sciences and Education, editors: June Ahn & Ingrid Erickson. Expected publication early 2016.
Haythornthwaite, C. (2015). Rethinking learning spaces: Networks, structures and possibilities for learning in the twenty-first century. Communication, Research and Practice. DOI: 10.1080/22041451.2015.1105773.
Gruzd, A., Paulin, D. & Haythornthwaite, C. (forthcoming). Analyzing social media and learning through content and social network analysis: A faceted methodological approach. Journal of Learning Analytics. [submitted]
Recently completed
Learning Analytics Summer Institute (LASI'14)

Public Event on learning analytics. Monday, June 30, 2014

6:30 PM

to

8:00 PM,

Gutman Conference Center, 6 Appian way, Cambridge, MA. Held in conjunction with LASI 2014, at the Harvard Graduate School of Education, June 30 – July 2, 2014
Workshop:  Learning Analytics for the Social Media Age.  Anatoliy Gruzd, Caroline Haythornthwaite, Drew Paulin, Rafa Absar. The workshop included brief introductions by the speakers, and a  hands-on component providing instructions and examples of use of a free web-based network analysis tool called Netlytic.
Other Invited talks
October 2014 — Learning with the crowd? New structures, new practices for knowledge, learning, and education. Oxford Internet Institute, Bellwether lecture series.
August 2014 — Distinguished Visitor to the University of Canberra for a week on virtual communities and social networks. Concepts and Methods Workshop on August 27, 2014, with Robert Ackland, Research School of Social Sciences, Australian National University, and Mathieu O'Neil, Faculty of Arts and Design, University of Canberra. Organizer: Mathieu O'Neil.
June 30, 2014 – Learning Analytics Summer Institute 2014 – Public Event, Harvard University, Boston, MA. Organizer: Garron Hillaire
March 4, 2014 – Social Studies of Information. Keynote presentation at the workshop 'Exploring the Social Studies of Information', iConference, Berlin, Germany. Organizers: Thomas Haigh and Nadine Kozak.
For more, see my publications page.